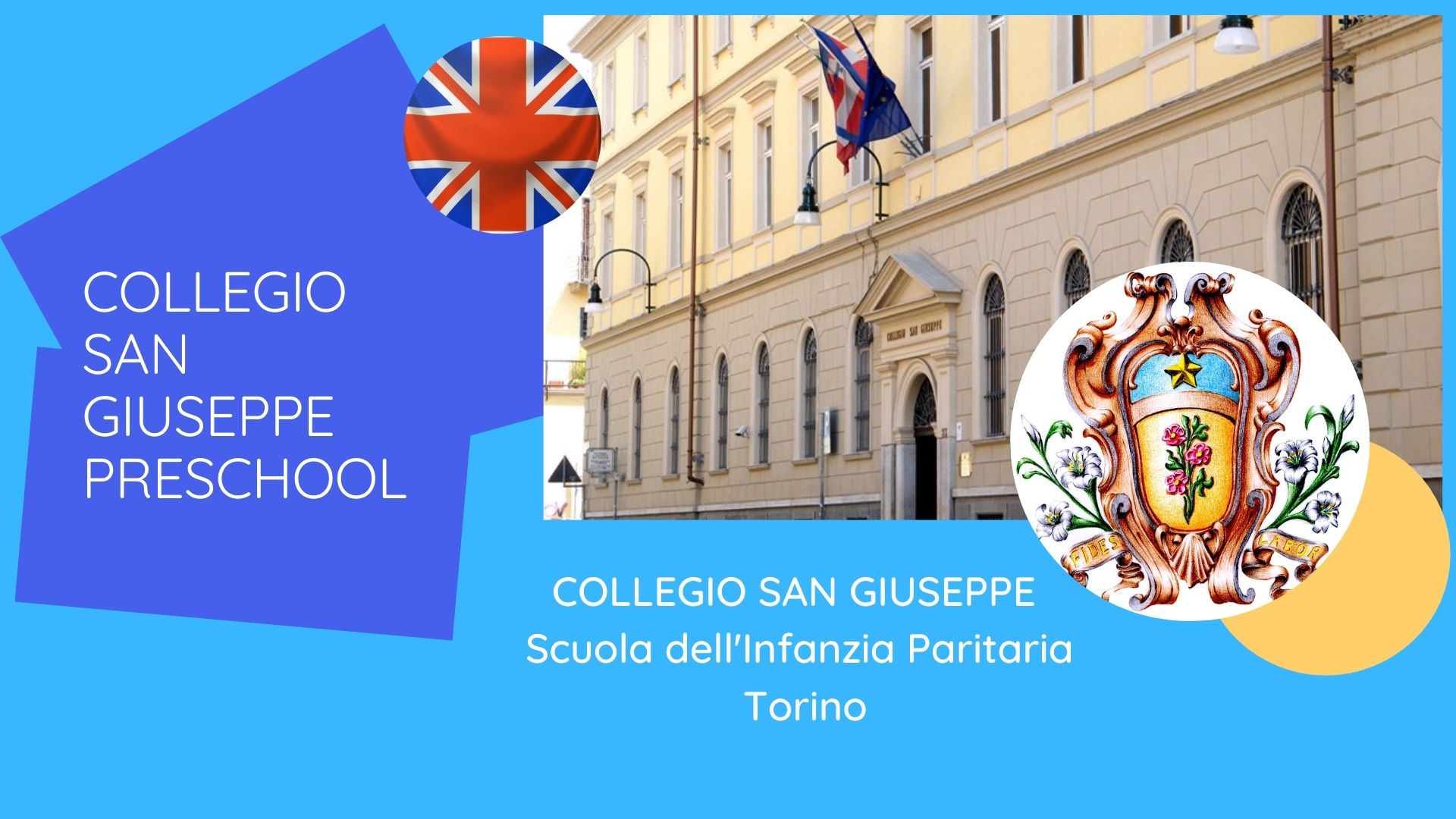 La scuola dell'infanzia del Collegio San Giuseppe offre ai bambini dai 3 ai 6 anni l'opportunità di imparare, scoprire, esplorare e crescere in un ambiente stimolante e creativo. La scuola è organizzata in tre sezioni: una classe sul modello tradizionale in italiano e due di full immersion in inglese.
Le due classi di full immersion in inglese seguono questo orario: tutte le mattine dalle 8.30 alle 13.30. Per il pomeriggio offriamo una varietà di corsi: doposcuola in italiano, judo, ginnastica, musica, inglese, coding in english, numeracy in english, storytelling and drama, musical dance, laboratori d'arte e STEM challenges.
La scuola è dotata di moderne aule tematiche, laboratori, servizi, sala pranzo con cucina interna, ambiente di riposo, infermeria, palestra, piscina, terrazzo giochi, permesso GTT per l'ingresso nella zona ZTL. Cerchiamo di far uscire i nostri bambini ogni giorno il più possibile per approfittare del nostro terrazzo giochi e della sua famosa nave dei pirati!
Sia le classi di inglese sia quelle di italiano seguono gli stessi orari dal lunedì al venerdì, dalle ore 7.30 alle 18.30 così articolato:
● Prescuola e colazione dalle ore 7.30 alle 8.30
● Accoglienza in sezione dalle 8.30 alle 9.00
● Inizio attività didattiche dalle ore 9.00
● Merenda a base di frutta ore 10.00
● Attività didattiche
● Servizio mensa: ore 11.45 – 12.45
● Prima uscita ore 13.00
● Nanna per i più piccoli, doposcuola per i bambini grandi
● Merenda
● Seconda uscita dalle ore 16.30
● Doposcuola dalle ore 16.30 alle 18.30
Attività curricolari
Acquaticità: il martedì per tutti i bambini
English con insegnanti madrelingua
Educazione motoria: 1 ora alla settimana
Educazione musicale: 1 ora alla settimana
Educazione religiosa cattolica
Prescuola per i bambini di 5 anni
Laboratori interdisciplinari
Attività extracurricolari
Judo: 1 o 2 volte la settimana
Acrogym: 1 o 2 volte la settimana
Musica 1 o 2 volte la settimana
Storytelling and drama 1, 2 o 3 volte la settimana
Art lab ogni pomeriggio
Music dance 1 volta asettimana
Corsi individuali di strumento musicale dai 5 anni: pianoforte, chitarra e violino
Coro di voci bianche "La Salle in canto"


Collegio San Giuseppe Preschool offers the opportunity for children ages 3-6 years old to learn, discover, explore and grow in a nurturing and creative environment. The school is organised into three separate classes: one class is based on the traditional Italian model and two classes in full immersion English.
The full immersion English classes are every morning from 8:30am until 1:30pm. For the afternoons there are a great variety of course offered including an After-school Club in Italian, Judo, Acrogym, Music and Coding in English, Numeracy in English, Storytelling and drama, Musical dance, Art laboratories e STEM challenges.
Collegio San Giuseppe is equipped with modern classrooms, laboratories, bathrooms, a separate lunchroom with an on-site kitchen, a naptime room, a school nurse, several gymnasiums including a soft play gymnasium, an on-site swimming pool and an outside playground. we try to get our children to go outside daily as much as possible to take advantage of our playground and its famous pirate ship!
Please note that a GTT entrance permission for the ZTL area will be granted.
From Monday to Friday both the Italian and the English Immersion classes follow the same timetable from 7:30AM-6:30PM as shown below :
Breakfast Club from 7:30-8:30
Morning welcome in class 8:30-9:00
The day's activities begin 9:00am
A fruit based snack 10:00am
More fun activities
Lunch (prepared on-site and eaten in the lunchroom) 11:45-12:45
Optional pick up 1:00-1:30PM
Naptime for 3 and 4 year olds
Activities for 5 year olds
Snack time
Pick up time from 4:30PM until 6:30PM
Home-time Club 4:30PM until 6:30PM
Specialist activities offered:
On-site swimming pool for Acquaticità class every Tuesday morning
English mother tongue Teachers
1 hour of Gymnastics a week with a specialist teacher
1 hour of Music a week with a specialist teacher
1 hour of Primary School preparation for 5 year olds
Religious Education including preparation for Christmas and Easter
Interdisciplinary laboratories
After-school Activities
Judo 1 or 2 times a week
Acrogym 1 or 2 times a week
Music 1 or 2 times a week
Storytelling and drama 1,2 or 3 times a week
Art Lab every afternoon
Musical dance 1 time a week
Individual Music lessons for the piano, guitar and violin
School Choir for 5 years olds "La Salle in canto"
---